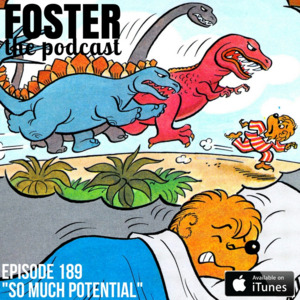 Episode 189 of Foster the Podcast is up! Host Justin Foster and co-host Michael Malone interview comedian Jay Hollingsworth who just spent a month on the road. Plus: Justin runs a 5k, the Berenstain Bears conspiracy theory, and the saddest wedding photo shoot ever. Subscribe in iTunes!
Episode 189 "So Much Potential"
Give it a listen and Share this post!
Follow us on Twitter and "Like" our show page on Facebook
Episode 189 "So Much Potential"
On this weeks episode:
"This Woman Had a Stunning Solo Photo Shoot at Disneyland After Being Dumped by Her Fiancé"
Plus:
"The Berenst(E)ain Bears Conspiracy Theory That Has Convinced the Internet There Are Parallel Universes"

Add our host, Justin Foster on Instagram. Click here to follow